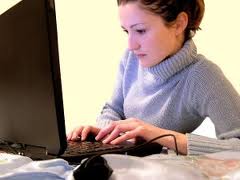 Dayton, OH (PRWEB) October 06, 2012
Freelance writing jobs are a new way that some writers are earning income entirely online. The expansion of online technologies is allowing some writers to write for companies all over the world from home. A new website has launched to help writers to take advantage of available writing opportunities online. The Online Jobs for Writers website is providing a direct link between writers and companies hiring writers online. More information can be found at this link.
Writing jobs traditionally involved a writer obtaining a job at a company and starting out at the bottom of the writing team. Many famous magazine writers and news correspondents have started their career at the bottom of a writing team. The Internet has changed the way that information is shared electronically and this has created more writing opportunities online.
The Online Jobs for Writers website contains a database of companies around the world that have immediate writing needs. These needs can range from simple blog posts, sales emails, sales letters or on-page website content. A new series of jobs has become available in the past few years that involve social media. The responsibilities of a social media manger can include managing all of the writing content for a company through tweeting or Facebook blog posts.
Freelance writers that have experience writing the types of content that are currently in the Online Jobs for Writers database could find employment opportunities. A recent study has been released that surveyed the salary range of freelance writers writing for companies online. The average writer can earn an estimated $ 25 to $ 45 per hour compared with standard office workers that earn less than $ 12 per hour.
Applicants that sign up for the Online Jobs for Writers website are reviewed with a standard writing test. The results of this test are delivered quickly to allow those that pass the testing portion to access the jobs that are currently available online.
Freelance writers that are interested in pursuing writing jobs at home could benefit from reviewing the opportunities that are now available online through the Online Jobs for Writers website.
About Online Jobs for Writers
The Online Jobs for Writers website is designed to link companies searching for talented writers with freelance writers in the United States. Writing jobs are one of the easiest ways for freelance writers to break into writing for a living. The Online Jobs for Writers website is helping writers to connect with companies that have a direct need for articles, blog posts, journals and social media management online. Writers that sign up to be a writing member of the Online Jobs for Writers website can get instant access to income opportunities as a writer.