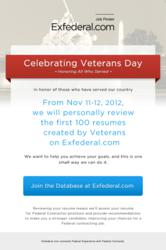 Fairfax, Virginia (PRWEB) November 08, 2012
Exfederal.com announces today that it will be, for a limited time, offering one-on-one resume reviews and recommendations for Veterans in honor of Veterans Day. On November 11-12, 2012, the first 100 Vets that sign up for an account at Exfederal.com and create their resume will get a personal review and recommendations from the seasoned HR staff at the company.
Exfederal.com is typically a self-service site for Government contractors and ex-Federal workers, where they upload and maintain their resumes on their own. However the opportunity to help Veterans make their resumes more competitive and help them become more qualified for Government contracting jobs is a win-win situation, says Ginger Groeber, the founder and President of Exfederal.com Veterans offer so much to our community. Their work experiences, ethics, and character are a real value, and its a shame to loose that to the private sector. Lets use that experience to make government programs even better. Veterans know how to get a job done!
How Do Veterans Qualify?
The process for Veterans to qualify for the resume review is simple they create an account at Exfederal.com and fill out their full profile. Based on their work experience, it will be visible if they are a Veteran and the first 100 will be notified that their resume will be reviewed.
About Exfederal.com
Exfederal.com started in February 2012, from a need the companys founder, Ginger Groeber, saw while transitioning from a successful DoD career to the private sector. She had trouble finding any existing tools for aligning public sector experience with private sector contracting opportunities. It was from this experience that Exfederal.com was created, identifying the need for a new tool that more seamlessly melded to the two worlds; contractors who want to hire experienced government personnel and experienced government workers looking for opportunities in the contracting industry.
The website has two offerings job postings and a searchable database of applicant resumes. The database is targeted to those with current or previous Federal experience, most of whom have security clearances. Employers are able to search the database with very detailed filters to find candidates to fill open contracting positions, and are able to match up not only the Applicants background but their job preferences as well. Joining the Applicant Database is always free for Applicants, as searching for jobs should be.
Further Information

For further information about Exfederal.com, costs, or collaborators, please contact Emily Coates at ecoates@exfederal.com, at 703.626.4644, or visit our website at http://www.exfederal.com.